While Urbana Restaurant & Wine Bar, adjacent to Kimpton's Hotel Palomar in Dupont Circle is known for their excellent wine list and Western Mediterranean-inspired fare, they also happen to be one of the most committed restaurants in town to sustainability. Executive Chef John Critchley brings expertise and a passion for serving sustainable seafood to Urbana. Most recently, Critchley opened Miami's Area 31, where he created a menu honoring the restaurant's name, an ecologically sound fishing region encompassing the Western Atlantic Ocean.
Chef Critchley's passion for sustainably sourced seafood has stayed with him throughout his career, and at Urbana, he sources only sustainable species of seafood, according to the guidelines from the Monterey Bay Aquarium's Seafood Watch List, including farmed oysters, Gulf of Mexico shrimp, Icelandic and Arctic Char. Additionally, all species of the restaurant's shellfish fall in to the good alternative or best choice according to Monterey Bay Aquarium's Seafood Watch List. The restaurant also recycles 25 pounds of oyster shells per week. Chef Critchley chooses to make a variety of items on Urbana's menu in-house, rather than import them, which cuts down on shipping and transportation costs. These house-made items include gelato, three different types of cheese, three types of charcuterie, and pasta, which the restaurant produced 4,000 lbs. of this past year. Chef Critchley also espouses the idea of whole animal cooking, which is a more sustainable way of cooking, using all parts of the animal, hence cutting down on waste.
Whenever possible, the restaurant sources from Mid-Atlantic farms and producers, including Virginia's Border Springs Farm, Pennsylvania's Tuscarora Organic Growers Cooperative, and War Shore Oysters. Chef Critchley also regularly shops at the local Dupont Circle FRESHFARM Market on Sundays, and each week gathers seasonal, local produce for the restaurant's "market pizza," which highlights the season's best ingredients. Chef Critchley also leads market tours at the Dupont FRESHFARM Market on select Sundays, after which he prepares a three-course meal for guests, using ingredients from the market. Chef Critchley has also created a small roof top garden on top of the Hotel Palomar, where he grows a variety of herbs and vegetables. The growing containers are made out of recycled plastic juice jugs, pickle barrels and other items that were bound for the landfills, regularly incorporating the garden's bounty in his dishes.
At Urbana, the entire staff is involved in recycling, and not just paper, glass and plastic, but cardboard boxes, cocktail napkins, to-go containers, wine corks, and even oyster shells. In 2011, the restaurant composted 64,816 pounds of scrap. Additionally, all cooking oil is recycled and converted into biodiesel. The restaurant is also conscious of conserving energy: back-of-house lighting is retrofitted and audited to ensure that energy efficient bulbs are in place, and all lighting in the back-office space is motion-sensored, while the candles on the tables are all rechargeable.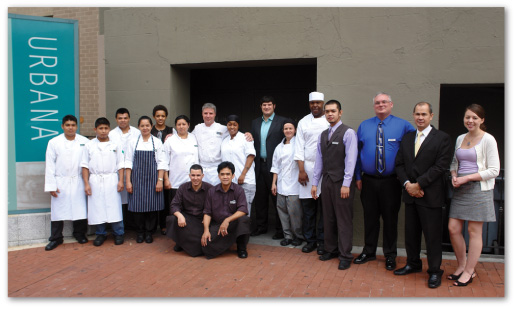 Back Row:
Sabino Cavalairo, Ireneo Sanchez, Carmen Cruz-Chavez, Lewam Isayas, Adela Fuentes, Chef John Critchley,Marquita Walker, Erik Travers, Lynn Nguyen, Tyrone Dory, Kenneth Pineda, Toby Riley, Ray Bitangcol and Lindsey Walker
Front Row:
Abde Rafai and Leo Enova