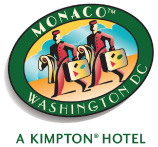 Since opening in June 2002, Monaco Washington DC has demonstrated a deep commitment to reducing its ecological footprint. The hotel is a member of Kimpton Hotels & Restaurants, a hospitality company that is recognized as a leader in ecological practices through its innovative EarthCare program that spans all hotels.
With over 120 different eco-friendly products and practices in place at the hotel, the Monaco Washington DC is designed to incorporate non-intrusive, "bottom-line friendly," sustainable business practices using a phase-in approach to protect the integrity of the guest experience.

In the last 12 months alone, the Monaco Washington DC has completed efficiency projects at a cost of more than $1.7 million dollars, including new HVAC systems in guest rooms and public space, lighting upgrades, and water efficiency measures. In terms of operations, hotel restaurant, room service and banquet services are composting, using non-toxic cleaning supplies, using recycled or seed paper for menus, using locally sourced water, and are vigilantly recycling paper, glass, plastic and aluminum. These changes have reduced water use by nearly 68%, energy use by 26%, greenhouse gas emissions by 28%, and utility costs by more than 32% from January 2011 to January 2012. Equally noteworthy is the hotel's "Choose to Conserve" program to incentivize guests with a $5 dining credit to opt out of resource-intensive housekeeping services during a 2-night stay.


Monaco Washington DC
Mohamed El Madahi, Chief Engineer | Evelyn Robb , Director of Housekeeping
Marina Kazlausky, Director of Finance | Ed Virtue, General Manager