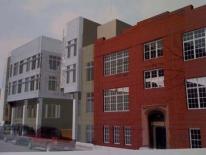 The District has selected a development team for the former M.M. Washington Career High School at 27 O Street NW. The team is made up of Urban Matters, Mission First Development, Mt. Lebanon Community Development Corporation and Square 134 Architects. Responses to the Requests for Proposals (RFP) for M.M. Washington, one of many excess schools offered up in 2009, were due March 27, 2009.
The school will be developed into over 90 units of affordable senior housing, The House of Lebanon, and 15,000 s.f. of community space with an estimated project cost of $25 to $30 million.
Also involved in the 94,000 s.f. project is the Mt. Lebanon Baptist Church, which sits just a few blocks away from the project site and is part of the Washington Interfaith Network (WIN).
Development Partners
Urban Matters
Mission First Development
Mt. Lebanon Community Development Corporation