Akridge
2009 Mayor's Environmental Excellence Award Winner:
Outstanding Achievement by a Large Business
---
Akridge provides development and management services for commercial properties around Washington D.C. The company demonstrates its commitment to conserving energy and minimizing the carbon footprint of its properties by integrating sustainability into the many facets the company's work, including real estate development and leasing and property management services. Akridge shares its commitment to sustainability with partners, investors, and employees.
Akridge is involved with many sustainability organizations including ENERGY STAR, LEED, SBNOW, the Chesapeake Bay Foundation, and the Smart Growth Alliance. The firm has worked closely with ENERGY STAR for many years, and is recognized as a "Top Performer" and a 2009 "Partner of the Year." The organization currently has 11 properties labeled with the ENERGY STAR designation. Through the USGBC's LEED program, Akridge sponsors employees to become LEED accredited professionals, takes advantage of the organization's many educational programs and is currently constructing one of the first LEED platinum office buildings in Washington (does this need an update?). Akridge is participating in SBNOW's Phase II Pilot Program to measure and improve sustainability features in business operations, and is a multi-year title sponsor of the Chesapeake Bay Foundation's key fundraiser. Through the Smart Growth Alliance, Akridge has four development projects recognized for smart growth attributes.
Beyond these organizations, Akridge has created its own unique program to ensure the company and its 40+ properties are taking every opportunity to be "green." The organization established the Green Team to synthesize the plethora of "green" information and theories in the marketplace, to compile data, research and test green products and technologies, and educate the company and its Clients on how to be greener. Akridge and its Green Team have championed programs like electronic recycling, now available to all Akridge-managed properties, an educational Client outreach and communication program to educate approximately 15,000 tenant Clients on the importance of and opportunities for sustainable practices. Finally, to encompass Akridge's large vendor and contractor community, an outreach and acknowledgement program was also established to encourage green practices and celebrate the embrace of new green technologies. Through a combination of industry participation, sponsorship, education, client and vendor outreach and thoughtful communications, Akridge has made a difference in its energy efficiency and carbon footprint and their work is not done. They continue to explore every avenue to conduct business, develop buildings and operate properties more efficiently.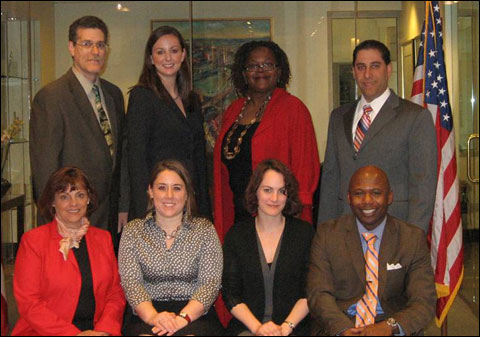 Akridge's Green Team members:
(back row, left to right) Bill Patterson, Danielle Jones, Terri Speight, Tommy Russo
(front row, left to right) Kathy Barnes, Jennifer Laforest, Katie Lyons, Todd Anderson