Big Bear Cafe, LLC
2009 Mayor's Environmental Excellence Award Winner:
Outstanding Achievement by a Restaurant
---
The Big Bear Café demonstrates its commitment to sustainability by sourcing local products, providing an aesthetically pleasing and environmentally friendly café experience, and keeping the larger environment in mind. The café's sources its tea and coffee from two companies who adhere to best practices in sustainability, such a producing organic/all natural products and supporting fair and free trade practices. The milk used at the Big Bear Café is hormone-free, produced from pastured cows at Trickling Springs Creamery in nearby Chambersburg, Pennsylvania. Milk and cream deliveries are received in glass bottles, which are returned for reuse each week. The Big Bear Café focuses on sustainability in small ways, too—promoting stirring spoons and whole sugar instead of throwaway stirrers and wasteful sugar packets. Rather than selling bottled water, the café offers glassware and filtered water for customers to enjoy.
Additionally, the Big Bear Café hopes that the experience we provide for our customers conveys our interest in sustainability and best practices. As a simple gesture, the cafe maintains an organic teaching garden and offers demonstrations and guidance for planting and raising various herbs and vegetables. To conserve energy, the Big Bear Café installed seven energy-efficient overhead fans to keep the cafe cool during the summer, virtually eliminating our need for air conditioning. During the winter, the fans circulate warm air, decreasing our dependence on natural gas to provide heat. The café installed energy-saving light bulbs in many of our light fixtures, reducing the store's carbon footprint. In addition, the café installed large low-emissivity (low-e) windows to retain heat during the winter and regulate the temperature during the summer and to use natural light whenever possible. In Spring 2008, the Big Bear Café was awarded a mini-grant for green development from Washington Parks & People. The award was used to install semi-permeable pavers in place of asphalt to ease stormwater runoff. Our stormwater runoff management to comply closely with best practices as determined by the American Society of Landscape Architects.
Resource preservation is at the heart of the Big Bear Café's business model. All our coffee is grown under a canopy of at least 50% shade, which supports bird habitats and other ecosystem elements. Counter Culture Coffee—the roaster for all the coffee sold at Big Bear Café—works with farmers who eliminate waste water in a sustainable fashion, which preserves water tables and watershed. We compost all our used coffee grounds and teas each day, and we are developing an on-site composting program for all remaining kitchen waste. All our compostable products —including corn-based PLA cups and utensils—are delivered to an off-site waste services facility for composting.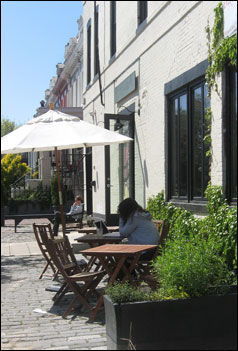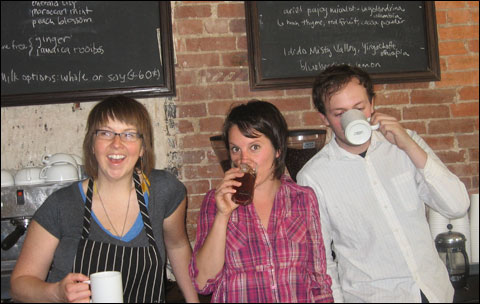 Big Bear team members:
Christy Baugh, Lana Labermeier, Collin Crowe