Community Preservation and Development Corporation
2010 Mayor's Environmental Excellence Award Winner:
Outstanding Achievement by a Construction/Development Company
---
The Green Renovation of Wheeler Terrace
The green renovation of Wheeler Terrace, a 116-unit, seven-building affordable apartment complex in the Washington Highlands neighborhood of Southeast DC, plays a key role in addressing the immense need to improve the health and environmental aspects of buildings, especially those in lower-income communities, while at the same time preserving affordable rents for residents. CPDC's senior staff has made a goal of going "green" in three areas: in new development, of which Wheeler Terrace is our model community; in operations of our existing properties; and in day-to-day operations.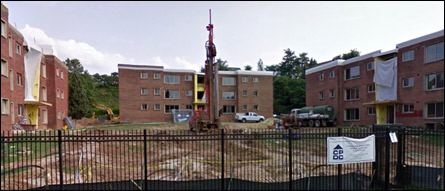 The green approach concentrated on six features:
Thermal Envelope - the exterior walls were thickened, and R-13 batt insulation added to the existing masonry wall to create a wall with a total insulating value of R-19. All windows were replaced with vinyl, insulating window units with Low-E glazing and a U value of .27. Finally, the existing roof membrane and insulation were removed and replaced with R-38 rigid insulation. The improvements contributed to an improvement of the efficiency by 24.7% over the 2007 ASHRAE 90.2 energy efficiency standards. "
Ground Source Heat Pump - the heating and air conditioning system will be fed with an ultra high-efficiency Ground Source Heat Pump which uses underground wells to preheats a glycol solution (similar to anti-freeze) using the earth's ambient 57 degree temperature. This system requires an average of 15 wells, each 450 feet deep per building. Although the upfront cost of this system is $600,000 more expensive, there is payback in 8-1/2 years. Recent unit utility bills average 40/month.
Roof System - the pre-existing flat roof was upgraded with a new energy-efficient white reflective roof that allows less solar heat gain within the building and eliminating the Heat Island effect often noticed in buildings.
Storm Water Management - an underground sand-filter system was added to catch, filter and divert these waters into the adjacent public sewer. In the future, this water can also be used for landscaping.
Indoor Air Quality - tempered outdoor air is circulated into the building's central corridor. This fresh air is then able to enter each apartment unit under a raised door intake design and is ultimately vented back outside through a kitchen and bathroom exhaust. This system produces 30 cfm (cubic ft/minute) of air.
Green Opportunity (GO) Center - the Wheeler GO Center is a single room located within the Wheeler Community Room that provides visitors with information about how the green features benefit residents' lives. Green exhibits are being designed by a Smithsonian Exhibit Planner and will allow residents and youth to participate in various workshops on green education. A computer lab is also included. Other project "green" features include the following:

Low-flow showers and sinks, and dual-flush toilets that use 30% less domestic water than normal projects
Paint, adhesives, sealants, carpet, composite wood, and insulation that is low in volatile organic compounds (VOC)
Energy Star appliances and lighting in kitchens and bathrooms to reduce electricity costs
Flooring, insulation, gypsum board, carpet and other materials containing pre- and post-consumer recycled content
An Urban Garden is being built on-site that will allow youth and adults to participate in an urban gardening program designed to encourage good nutrition and education.
The comprehensive scope of rehabilitation emphasizes green building performance standards, making Wheeler Terrace the District of Columbia's first Leadership in Energy and Environmental Design (LEED) certified affordable housing property (Gold level). Another central design feature is CPDC's focus on having the site to meet "Green Communities" standards for affordable housing.