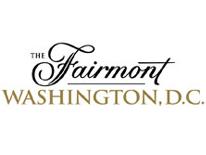 The Fairmont Washington, DC
2009 Mayor's Environmental Excellence Award Winner:
Outstanding Achievement by Hotel
---
Fairmont Hotels & Resorts, a leader in sustainable tourism, was the first major hotel chain in North America to embrace environmental stewardship in its daily operations through the implementation of its own Green Partnership Program. The Fairmont Washington, DC has fully embraced this pledge to waste management, energy and water conservation.
The hotel's environmental committee has developed a number of programs incorporating the environmental mantra reduce, reuse and recycle into the hotel's daily operating practices. This has resulted in energy consumption savings of 1,120,326 (kWh) per year and a cost savings of $103,070 per year. Over the next four years these changes will equate to a combined energy savings of 4,481,300 (kWh) and a cost savings of $412,280. Each quarter the hotel recycles 150 tons of cardboard, paper, newspaper and co-mingle.
The Fairmont Washington, DC has also embraced Fairmont Hotel's & Resorts Eco-Meet Program. An environmentally-friendly conferencing program, intended to minimize harm to the environment during meetings, conferences and similar events. Eco-Meet, developed as a "green meeting" and conference planning option, assists meeting planners to organize conferences and events that consider the environment, result in reduced waste, and also conserve valuable resources.
Pepco Energy Services supplies The Fairmont Washington, DC with over 3 million kilowatt hours (kWh) of electricity generated from renewable resources; ten percent of the energy comes from wind farms located in the Mid-Atlantic region.
The hotel's courtyard garden has its own herb garden tended to by the executive chef. The herbs are used to season signature dishes that reflect natural and healthy choices found from local organic producers.
Last but not least, The Fairmont Washington, DC is enrolled in the US EPA ENERGY STAR Program, a program that commits to benchmark energy consumption and streamlining energy performance at the property.
In response to the nation's Honey Bee shortage and as part of the hotel's environmental stewardship program, The Fairmont Washington, DC has recently welcomed 105,000 Italian honey bees to their new home. The rooftop of The Fairmont Washington, DC is now abuzz with three honey beehives and their residents. The bees will enhance the hotel's culinary program along with its interior courtyard garden that already provides fresh herbs and flowers such as edible pansies, and the plants, trees and flowers in the surrounding West End neighborhood.
Fairmont Washington, DC Green Team
(back row, left to right)
Cesar Erazo, Kristian Kurn, Brett Robbins, Shahan Miah, Greg Fellman, and Cenon Garcia
(front row, left to right)
Diana Bulger, Kristhell Aguado, Pam Knapp, and Hanca Bekanovic