Firefly, a Kimpton Restaurant
2011 Mayor's Environmental Excellence Award Winner:
Outstanding Achievement by a Restaurant
---
In April 2007, when Danny Bortnick joined Firefly as the youngest executive chef in the restaurant's history, he had some high expectations to meet. After a few years, he has re-designed Firefly's menus and image by delivering modern American comfort food. While his dishes are inventive and creative, he happens to be one of the most committed chefs in town, to the sustainable food movement. Many of the food options on Danny's menu are organic and make use of the whole animal. His menu also prominently features the local farmers supported by the restaurant on a consistent and regular basis. With food and beverage being a huge component of Green Seal certification, Firefly's environmental commitment assisted its sister hotel, The Hotel Madera, in qualifying for Green Seal at the Silver level.


Through the leadership of Chef Bortnick, who holds the position of chef and general manager, all of Firefly's staff is fully compliant with the implemented sustainability and environmental practices, and not a day goes by when managers, bartenders, servers, and kitchen staff do not fully participate in the restaurant's recycling and composting program. At Firefly, the entire staff is involved in recycling everything, and not just paper, glass and plastic, but cardboard boxes, cocktail napkins and to-go containers. Tabletops are made of reclaimed wood, water glasses are made from recycled wine bottles, and tablecloths are no longer used, so as to reduce water waste from washing.
Examples of Firefly's Environmental Standards:
Organic Beverages: All coffee is organic, shade grown and/or fair trade. The talented bar staff continuously search for more organic and biodynamic beverage options including juices, wine, beer and liquor. It has been so successful that the bar program now offers an entirely all-American wine list - nothing is imported, thus reducing the restaurant's carbon footprint.
No Bottled Water: Firefly has eliminated all bottled water by installing Natura®, an on-site water purification system allowing the restaurant to serve both carbonated and non-carbonated purified water. The restaurant serves the water in reusable and elegant Natura® branded bottles.
Organic Herb Garden: While not as extensive as some kitchen gardens, Firefly maintains an organic herb garden, which is used to season and garnish dishes daily.
Sustainable Foods and Materials: Firefly's kitchen, led by executive chef Daniel Bortnick, works closely with local farmers to source organic, sustainable and locally grown produce. Handmade pottery from one of Firefly's growers is used as serveware in the restaurant. As a policy, Firefly does not use any coasters at the bar or in the restaurant.
Recycled Paper and Soy Inks: All menus, daily specials, check presenters and other materials are printed on recycled paper using soy-based ink. Cocktail napkins, to-go bags and paper cups are made of unbleached and recycled paper.
Biodegradable Products: Disposable utensils, straws, and packaging have been replaced with 100% biodegradable corn-based materials, and to-go containers are made of sugarcane. Sandwich and beverage picks are made of bamboo.
Recycling: A back-of-house recycling program is in place and strictly enforced, where glass, aluminum, paper, plastic and cardboard are recycled. Old menus are re-used for fry cones, doilies and plate liners. Reclaimed wood tables are used as tabletops throughout the entire restaurant. **On April 15, 2011 Firefly installed a wine cork recycling station in the restaurant's vestibule. In partnership with ReCork by Amorim, the restaurant will collect used corks which will then be recycled into useable materials such as shoes and flooring tiles.
Composting: Food and cocktail scraps are composted, and on average the restaurant composts 3,500 pounds of scrap per month. In 2010, Firefly composted a total of 41, 432 pounds of scraps. In addition, all cooking oil is recycled and converted into diesel fuel, and a grease trap intercepts greases and solids before they enter the sanitary system.
Energy Conservation: Back-of-house lighting is retrofitted and audited to ensure that fluorescent or CFL bulbs are used. All lighting in the bathrooms are motion censored. Low temperature dish washers and sink/faucet aerators are in place to conserve energy.
Social Responsibility: Bortnick is a member of the First Lady's Chefs Move to School initiative. He is currently working with Wyngate Elementary in Bethesda, Maryland. Bortnick is also a supporter of FRESHFARM Markets, where he participates in farmers' market demos showcasing in-season local fruits and vegetables.
Bortnick and Firefly are committed to providing diners with food that is local, sustainable as well as safe for people with allergies. Firefly has offered specially-adapted gluten free menus long before it was the trend and Bortnick is always willing to make specially prepared dishes for guests who may have unusual food allergies.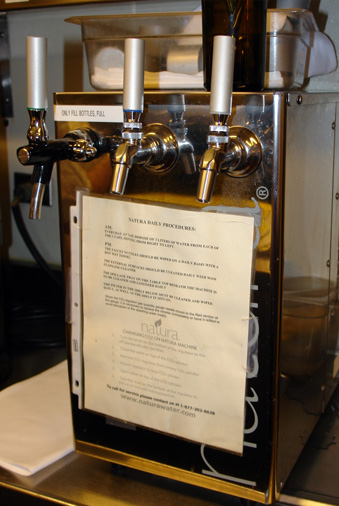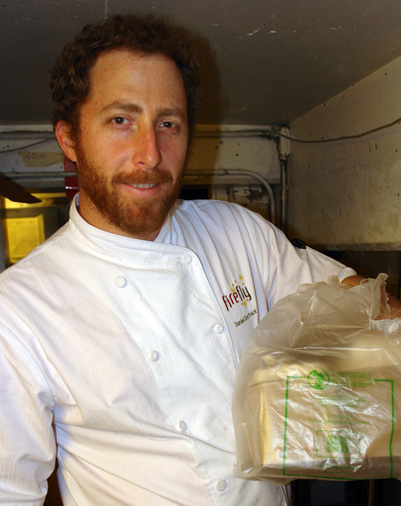 No Bottled Water Chef Danny Bortnick

For Firefly (from Left to Right):
Megan Best, Britt Herring, Manuel Crespo, Rosi Morales, Jesus Melchor, Shane Graybeal, and Chef Danny Bortnick is sitting in the middle