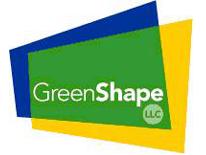 GreenShape LLC, a certified LSDBE headquartered in the District of Columbia, has helped more than 150 project teams identify achievable, cost-effective strategies for improved building performance. GreenShape has built a solid reputation for providing expert sustainability guidance to building owners, developers, design and construction professionals and government agencies. Iris Amdur and the GreenShape team have been influential leaders in developing a green economy in Washington, DC.

Since the firm was founded in 2004, GreenShape has:
Provided innovative sustainability coaching and consulting services to local development professionals to ensure successful adoption of green building practices.
Served as subject matter experts during the establishment of the DC Green Building Act of 2006.
Created a community resource for Construction Reuse and Recycling in cooperation with the Metropolitan Washington Council of Governments.
Supported infrastructure planning for the EcoNoMa district.
Provided on-the-job and formal sustainability training to over 1500 industry professionals through green building charrettes, professional training courses and workshops.
Rolled out the USGBC's LEED for Schools rating system and wrote the corresponding reference guide and technical training.
GreenShape's extensive green building field experience, knowledge of state-of-the-art sustainability practices and commitment to the community has enabled GreenShape to provide significant contributions to greening of the District of Columbia. GreenShape's clients were leaders in creating the District's first examples of high performance green buildings including:
The National Association of Realtors Headquarters - the first private sector LEED certified building in DC, NC 2.1 Silver certified in 2005.
Sidwell Friends Middle School - the first LEED Platinum rated building in DC and the first LEED Platinum school in the world, LEED NC Platinum certified in 2007.
1101 New York Avenue - one of the first LEED Gold certified Core and Shell office buildings in DC, LEED CS pilot Gold certified in 2008.
Service Employees International Union, LEED NC 2.1 Gold certified 2006
Society for Neuroscience, LEED NC 2.1 Gold certified 2006
National Council of Architectural Registration Boards, LEED CI Silver certified 2008
Union of Concerned Scientists Headquarters, LEED CI Gold certified 2008
Based on just 10 of the 13 LEED-certified projects for which performance data has been aggregated, GreenShape has facilitated diversion of over 1,400 tons of construction debris from landfills which was re-introduced into the local economy as salvaged or recycled material. These projects also saved more than 11.6 million kwh of electricity annually. GreenShape's projects use 30-90% less water than conventional buildings do for sewage conveyance, which has resulted in over 5.3 million gallons of water savings annually. This data does not include the resource conservation that will result from the support provided by GreenShape to more than 100 other projects for which data has not been confirmed.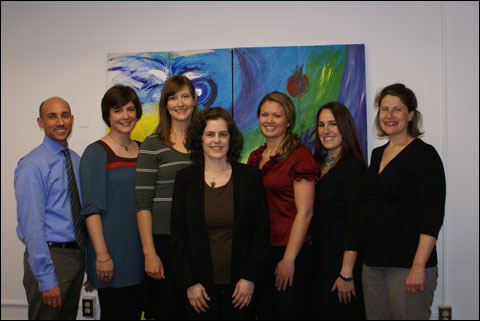 GreenShape Team
(From left to right)
Patrick Tallarico, Sara Cederberg, Jessica Abralind, Iris Amdur, Whitney Maymon, Emmy Schneider and Holly Jamesen Carr