Restaurant Nora
2009 Mayor's Environmental Excellence Award Winner:
Outstanding Achievement by a Restaurant
---
Restaurant NORA, located in Dupont Circle, has played a pivotal role in protecting the environment through food since its inception in 1979. When Nora Pouillon with her partners Steven and Thomas Damato opened the restaurant in 1979 it promoted natural, pesticide-free food and a seasonal menu long before the word organic was in vogue. Nora Pouillon, the chef and owner of Restaurant NORA focused on this type of food because she felt strongly about the health of her customers and about the environment.
In 1976, Nora was the first chef in the District to establish relationships with local farmers. She persuaded them to grow and raise food for the restaurant by using natural and organic methods. She was one of the first chefs to stress a seasonal menu that would support local farmers and thereby reduce negative impact of fossil fuels on the environment. As Nora connected with more and more farmers she introduced District chefs to an organic farmers' coop in Pennsylvania convincing the chefs to buy local, organic and sustainable produce. By 1997 Nora had established a strong relationship with area farmers and as a result initiated Freshfarm Markets, the producer-only farmers markets that connect the District to the farms and farmers surrounding the city.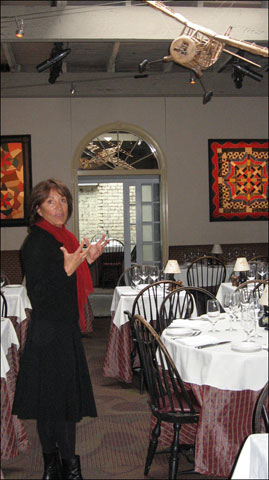 Nora Pouillon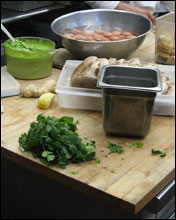 In 1999 NORA was the first restaurant to obtain organic certification, which means that at least 95% of all food served in the restaurant, must come from certified organic sources. The restaurant is inspected every year to renew certification. Even after ten years there are only four restaurants in the country that hold this certification.

Restaurant NORA is a strong proponent for the environment in many other ways than just through food. Nora is committed to the environment through conservation, recycling, composting and reducing negative impacts on the environment and by serving as a board member on numerous environmental boards. Restaurant NORA showcases a commitment to organic food, a sustainable and healthy life for its customers and promotes the future health of the environment for generations to come.
(Left to right)
Ramon Viera, Reynaldo Diaz, Dinora Paradou, Chi Phan, Doug Rouen, Nora Pouillon, Benjamin Lambert, and Cara Baker.