Rock Creek Conservancy
(formerly Friends of Rock Creek's Environment)
2011 Mayor's Environmental Excellence Award Winner:
Partner of the Year
---
Rock Creek Conservancy is a nonprofit organization working to protect and restore Rock Creek and its waters, parks, and lands. Rock Creek suffers from trash, polluted runoff, sewage overflows, loss of trees, destruction of fish and wildlife habitat, and an influx of invasive non-native vegetation. Since its founding in 2005, Rock Creek Conservancy has tackled these problems through a combination of education, advocacy, and on-the-ground action.

Rock Creek Conservancy has organized well over 100 stream cleanups in the parks along Rock Creek. In 2009, Rock Creek Conservancy initiated the annual Rock Creek Extreme Cleanup in which volunteers work at over 50 locations along the 33-mile Rock Creek in the District and Montgomery County. In the last two years, people have hauled out a combined total of 5,000 bags of trash, 37 tons of loose trash, 300 tires, and 14,000 plastic bags from the creek and woodlands.
Building on this energy, Rock Creek Conservancy launched a neighborhood-based Stream Team program for people or organizations to adopt sections of Rock Creek. Over 50 teams keep an eye out for problems in the creek and organize their neighbors for projects such as trash cleanups, tree planting, weeding of invasive plants, and storm drain marking.

In partnership with the District Department of the Environment, Rock Creek Conservancy has worked to showcase eco-friendly landscaping practices to help reduce the volume of polluted runoff that enters our waterways. Rock Creek Conservancy helped spearhead the RiverSmart Homes program by installing a demonstration garden in each of the eight District wards and is now working with the Department of the Environment and other partners to measure how well green techniques reduce runoff in two Rock Creek neighborhoods.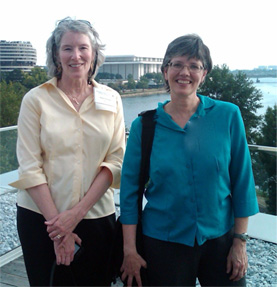 Joan Furlong (left), Beth Mullin (right).