Skyline Innovations
2011 Mayor's Environmental Excellence Award Winner:
Innovation in Green Products or Services
---
Skyline Innovations is working to turn D.C.'s rooftops into sustainable solar power plants. Founded in August of 2009 in Adams Morgan's Affinity Lab (a green co-working space), Skyline set out to bring affordable solar power and accessible sustainability to the District and the mid-Atlantic in general. Since then, it has grown from three employees to 10 and added lighting efficiency projects in addition to our solar thermal projects.

Skyline functions just like a utility, charging our customers for the energy that we provide. But rather than operating large, fossil fuel-guzzling power plants, we build solar panel installations on your roof. By utilizing advanced metering technology, we are able to pinpoint exactly how much energy our system provides and then map this data against existing utility rate structures to determine the precise savings-of both money and energy-generated by our systems. We then charge our customers only a percentage of that savings, guaranteeing that they save money over their utility bill each and every month. The model works the same for efficiency technologies except that reduction in consumption is substituted for energy generation.

Skyline owns the system for the duration of the customer contract, meaning that we cover all the up-front installation costs and ongoing maintenance costs of the system. This ensures that customers can gain access to renewable solar power with no out-of-pocket expense.
Skyline currently has 11 completed solar thermal projects, with several more under contract, generating myriad environmental benefits:
Since its founding, Skyline has developed 4,800 square feet of solar collectors which generate 360 MWh of solar energy annually.
Skyline currently has another 17,600 square feet of collectors under contract and construction in DC that will generate an additional 1,317 MWh of energy annually.
Skyline's solar installations become carbon neutral within 60 days of completion.
To date, Skyline projects have offset 252 Mwh of energy and a total of 70 tons of carbon. Projects currently under construction will quadruple those numbers by 2012.
Skyline projects include residence halls at George Washington and American Universities as well as private multi-family residential properties. Our focus on multi-residence buildings reflects the company's mission to reach as many people as possible and make renewable energy as accessible as possible.

One of our mantras is, "If it isn't affordable then it isn't sustainable." With this in mind the company has also started targeting affordable housing groups about adding renewable energy and efficiency services to their buildings. We hope this approach reminds people that environmentalism and sustainability are attainable and available for everyone. We also do our best to practice what we preach at the Skyline offices.

Almost every employee, including the CEO, walks or bikes to work every day. We also strive to avoid waste-generating paper transactions and the office utilizes recycled materials and a green cleaning service.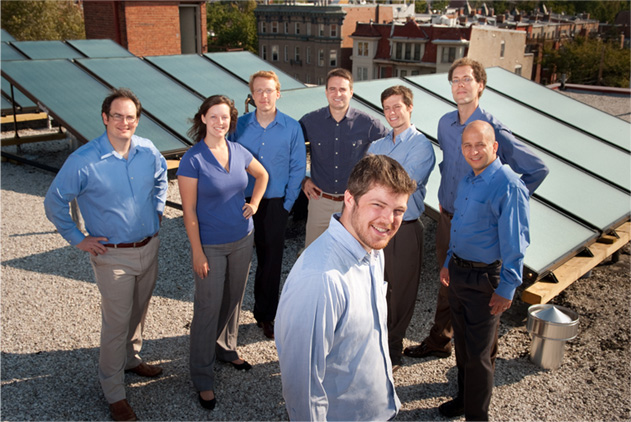 In the team photo, foreground is CEO, Zach Axelrod then, left to right we have Mike Healy, Kate Heidinger, Andrew Jackson,