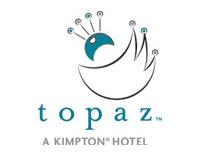 Topaz Hotel
2011 Mayor's Environmental Excellence Award Winner:
Outstanding Achievement by a Hotel
---
Kimpton Hotels & Restaurants, which operates seven boutique hotels in Washington, DC including Topaz Hotel, leads the hospitality industry in ecological practices through its innovative EarthCare program. While EarthCare itself is only about six years old, its roots date back to Kimpton's inception in 1981 and it holds the distinction of being the luxury-and-boutique hotel industry's first and largest nationwide sustainability plan.
Topaz, a Kimpton Hotel, is at the forefront of Kimpton's commitment to environmental sustainability, and the hotel features non-intrusive "bottom-line friendly," sustainable business practices using a phase-in approach to protect the integrity of the guest experience. With over 100 different eco-friendly products and practices in place at the hotel, Topaz and its sister hotels have pioneered responsible hospitality with industry firsts ranging from in-room recycling bins to organic snack and beverage options in honor bars.

Highlights of Topaz Hotel's environmental program include:
Topaz is certified at the Green Seal Silver level - which includes minimum standards for environmental purchasing, PCR recycled content of all office paper products above 35%, water reduction measures, and energy conservation standards.
Topaz utilizes industry leading low flow shower heads, aerators, and water closets. Through towel and linen reuse alone, Topaz saved 34,786 gallons of water, enough to fill 75 six person hot tubs.
Waste diversion rates vary are in excess of 60 percent through aggressive recycling, donation, and composting programs.
Amenities (soap, shampoo, etc.) are packaged in recyclable materials and unused portions are donated to Clean The World. " Laundry detergents and cleaning products are non-phosphate, nontoxic and biodegradable, and used in concentrated liquid or powder form.
Topaz is currently working to receive certification as an "Energy Star Partner" with the EPA and the US Department of Energy with a mandate to identify and promote energy-efficient products and reduce greenhouse gas emissions.
Topaz supports The Potomac Conservancy, The Trust for Public Land and The Nature Conservancy, through fundraising events, charitable donations, and employee clean-up events.
Topaz has installed a state of the art Energy Management System which senses occupancy of the room and directly controls the rooms HVAC resulting in large reductions in energy consumption.
Topaz has eliminated oil-based paints and now only selects low-VOC paints as an alternative in addition to eliminating all possible aerosol based propellants.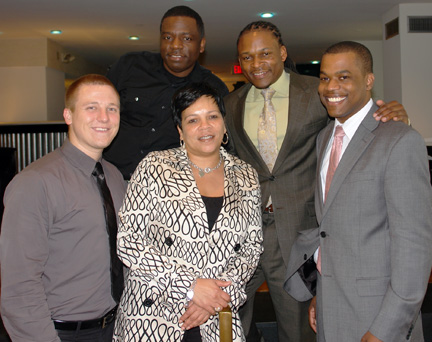 Front Left to Right Sam Campbell, Director of Housekeeping & Topaz EarthCare Champion, Bridget Atkins, Controller, Raymond Lyons, Front Office Manager
Back Left to Right: Carl Cash, Chief Engineer, Donte Johnson, General Manager and Regional Kimpton EarthCare Champion (not pictured) Sarah Horner