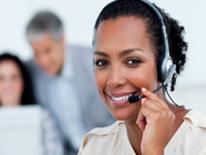 How Can We Help You?
DCRB's Member Services Center is a great resource for all Plan members. Contact one of our Customer Service Representatives to do any of the following and more:
Update your member information, including mailing address, phone number, and email address;
Request forms and/or assistance with forms;
Schedule an appointment to discuss your benefits;
More!
To allow our employees to serve you quickly and efficiently, please schedule an appointment by phone or via email. By indicating your issue and providing us with your contact informaiton, our Customer Service Representatives can tailor our services to your needs.
How To Contact DCRB's Member Services Center
You may us visit in person at DCRB's offices in downtown Washington, DC at 900 7th Street NW on the 2nd floor. This location is within walking distance from the Gallery Place-Chinatown metro stop and near several bus stops. Parking is available nearby. You will have to sign in with the door person on the ground level in order to visit us on the second floor.
Or, contact us through one of these methods:
Phone: (202) 343-3272
Toll Free: (866) 456-3272
TTY: (800) 877-8339
Fax: (202) 566-5001
Email: dcrb.benefits@dc.gov
Note To Active Members
If you are an active member, please call your human resources office to inquire about services such as, but not limited to, changing your beneficiary information, updating your address, receiving pre-retirement counseling, or correcting payroll information.