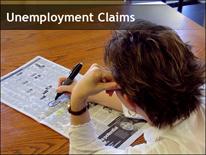 Please be advised that our office will be closed on Monday, May 30, 2016 in observance of Memorial Day. The closure may result in a delay in the processing of unemployment insurance claims. All initial claims and weekly certifications filed on Sunday, May 29, 2016 and Monday, May 30, 2016, will be processed on Tuesday, May 31, 2016. If you have any questions regarding your claim or your weekly certification, please contact our office at (202) 724-7000 during regular business hours from 8:30 AM – 4:30PM.
Welcome to the DC Department of Employment Services Unemployment Compensation Program. The District offers two ways to file for unemployment compensation – via the Internet and the phone. We strongly encourage that customers seeking unemployment benefits do so online for quicker service ; however, you can reach theUI call center at 202-724-7000. The Office of Unemployment Compensation (OUC), also referred to as Unemployment Insurance (UI) Office, serves claimants and employers of more than 30,000 businesses in and around the District of Columbia. To begin the process of filing for your unemployment benefits, you will need to have the following information readily available:
Your social security number
Your most recent 30-day employer's name(s), address(es), phone number(s) and dates of employment
Your Alien Registration Number, if you are not a US Citizen
Your DD214, if you are ex-military
Your Standard Form 8 or Standard Form 50, if you are a former federal employee
Severance pay information (only applicable if you did or will receive severance pay)
Please note that confidential unemployment compensation information may be requested and utilized for other governmental purposes, including, but not limited to, verification of eligibility under other government programs. This notice is required by 20 C.F.R. § 603.11 – How do States notify claimants and employers about the uses of their information?
For detailed information regarding work search requirements and how to comply, read the Work Search FAQs [PDF].
Service Contact:
Office of Unemployment Compensation - Tax Division
Office Hours:
Monday to Friday 8:30 am to 4:30 pm