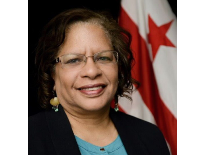 Deborah A. Carroll is the Director of the DC Department of Employment Services and the former Interim Director and past Administrator for the DC Department of Human Services Economic Security Administration.
Ms. Carroll is a Bronx, New York native and a graduate of Temple University, where she obtained her Bachelor of Science degree and her Juris Doctorate. After several years of clerkships and private practice, she developed expertise in health privacy, child welfare, and mental health law and practice while representing the Departments of Health, Behavioral Health, and the Philadelphia Department of Human Services from 1999-2003. Additionally, Ms. Carroll served as legal counsel to the City of Philadelphia's Forensic Mental Health Task Force where she co-authored a treatise on Pennsylvania's mental health commitment laws, and participated in Pennsylvania's Southeast Region Forensic Mental Health Task Force. She joined the Office of the General Counsel for the DC Department of Human Services (DHS) in 2003, where she served as the Deputy General Counsel for DHS and served as principal attorney for the Economic Security Administration. Ms. Carroll also served as the Acting General Counsel for DHS from 2006 through 2008 before she joined the agency in 2009 to serve as the Administrator.
During her tenure, the Department of Human Services earned numerous performance awards for timeliness and program access. She spearheaded reforms in the Temporary Assistance for Needy Families Program (TANF), focusing on developing a program model that includes intelligent referrals and individualized, unified case plans to maximize customer success. During the past few years, Ms. Carroll expanded the use of federal dollars by expanding partnerships in the community in the SNAP Employment and Training program. Recently, she led reforms in homeless services intake and case management for families by merging the TANF assessment and case planning with crisis intervention services, to help immediately stabilize and provide support to families at risk. Ms. Carroll served as the chair for the Health Reform Implementation Committee's Medicaid Eligibility and Enrollment subcommittee and was instrumental in developing one of the most successful state based health insurance exchanges in the nation.
Ms. Carroll is a contributing member to the National Workgroup on Integration, hosted by the American Public Human Services Association, and Regional Representative to the Board of the American Association of SNAP Directors.