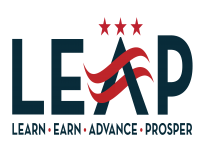 L.E.A.P. (Learn, Earn, Advance, Prosper) is a network of interconnected partners utilizing the "earn-and-learn" approach that will link the city's unemployed residents with employment, education and training opportunities. The earn-and-learn approach applies the apprenticeship model to skill development, allowing individuals to earn a wage while participating in an on-the-job training experience and concurrently participating in related technical instruction. This framework allows individuals to earn wages and accumulate work experience thus bolstering their ability to advance along a career pathway and into the middle class.
Eligibility Requirements
To be eligible for L.E.A.P., an applicant must meet the following requirements:
Must be a District of Columbia resident.
Must be 21 years of age or older.
Must have a high school diploma, GED Certificate or higher.
Must be a registered participant with DOES's Division of State Initiatives and or the American Job Center.
Must pass a drug/alcohol screening and criminal background check, if offered a training opportunity.
Must not be currently enrolled in a D.C. subsidized employment program.
Must have "intermediate level" computer abilities.
How to Apply
Complete and submit the L.E.A.P. Summer 2018 application here.
• Opportunities for this period are for information technology area only
• All will be paid the wage of $14.50 an hour
• The application will be accepted online only
All completed applications must be submitted no later than 4:45 p.m. on Wednesday, May 23, 2018. No phone calls to DCHR or DOES.
Please see the LEAP Academy FAQ's document for questions on how to apply for the next L.E.A.P Academy class.
If you have any questions about L.E.A.P. or the application process, please email [email protected]