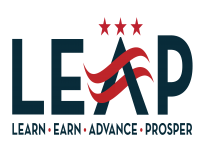 L.E.A.P. (Learn, Earn, Advance, Prosper) is a network of interconnected partners utilizing the "earn-and-learn" approach that will link the city's unemployed residents with employment, education and training opportunities. The earn-and-learn approach applies the apprenticeship model to skill development, allowing individuals to earn a wage while participating in an on-the-job training experience and concurrently participating in related technical instruction. This framework allows individuals to earn wages and accumulate work experience thus bolstering their ability to advance along a career pathway and into the middle class.
The application for the next L.E.A.P Academy cohort launched on May 12, 2017 and the deadline to apply has been extended to today May 22, 2017. Please contact the Department of Human Services/Office of Work Opportunity at 202-698-1860 for any questions. Please visit the link below for more information on how to apply and available positions.
https://sites.google.com/dc.gov/dhsleapacademy
Who is eligible?
Must be a current District of Columbia resident

Must be a current Temporary Assistance for Needy Families (TANF) recipient
Must meet minimum qualifications and suitability requirements for available positions

(Note: You may be subject to a criminal history check, random drug test, consumer credit check, and a review of traffic recorded and/or other comprehensive background investigations as it relates to the duties of the position).

Must be 18 years or older

Must have a High School Diploma, GED Certificate or higher

Must be committed to successfully completing the 12-month training program

Must not be currently enrolled in a D.C. subsidized employment program.

Must pass a basic computer skills test administered during the interview process
If you have any questions about L.E.A.P. or the application process, please email [email protected]