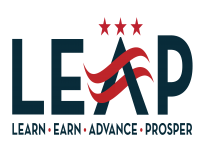 L.E.A.P. (Learn, Earn, Advance, Prosper) is a network of interconnected partners utilizing the "earn-and-learn" approach that will link the city's unemployed residents with employment, education and training opportunities. The earn-and-learn approach applies the apprenticeship model to skill development, allowing individuals to earn a wage while participating in an on-the-job training experience and concurrently participating in related technical instruction. This framework allows individuals to earn wages and accumulate work experience thus bolstering their ability to advance along a career pathway and into the middle class.
Eligibility requirements may change depending on funding streams. Stay engaged with your American Job Center (AJC) Employment Specialist and/or your Department of Human Services Office of Work Opportunity for updated information.
Who is eligible?
Must be a current District of Columbia resident

Must meet minimum qualifications and suitability requirements for available positions
(Note: You may be subject to a criminal history check, random drug test, consumer credit check, and a review of traffic recorded and/or other comprehensive background investigations as it relates to the duties of the position).
Must be 21 years or older

Must have a High School Diploma, GED Certificate or higher

Must be committed to successfully completing the 6 and or 12-month training program

Must not be currently enrolled in a D.C. subsidized employment program.

Must pass a basic computer skills test administered during the interview process
I hope this information helps. If you have any questions about L.E.A.P. or the application process, please contact (202) 442-4646 or email [email protected]