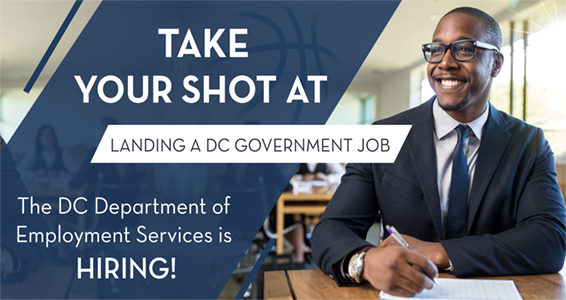 Welcome and thank you for considering DOES!
Do you strive to make a real impact in the lives of others? Are you driven, innovative, and willing to go above and beyond to deliver results for customers? Are you passionate about enhancing the quality of services for District residents?If yes, then the DC Department of Employment Services (DOES) wants you! We are currently seeking to expand our talent base in the below areas.
If you are interested in joining us, review the below job descriptions and complete the DOES Recruitment Form with your resume attached.
Candidates who meet the specified qualifications will be contacted for an opportunity to attend our invitation-only DOES hiring event on January 30th. Invitations will be sent to those who have completed the recruitment form and been contacted by DOES.
Available Positions:
Administrative
Division of State Initiatives
Division of Labor Standards
Compensation Review Board
Office of Worker's Compensation
Office of Wage and Hour

Economic Stability
Office of Paid Family Leave
Office of Administrative Services
Office of Youth Programs
Strategy & Innovation
Legislative Affairs
Workforce Development - BSG
In order to participate, please submit your resume for consideration by January 22, 2019.
If you have any questions or concerns, please email [email protected] or call (202) 724-4998.