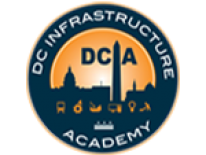 Coming Soon! The District of Columbia Infrastructure Academy is a key initiative of Mayor Muriel Bowser's Administration, led by the Department of Employment Services.
This effort will aid in meeting the workforce needs of the Infrastructure industry, which is one of DC's High-Demand industries, and one of the most rapidly growing industries in the nation.
DCIA will serve as a dedicated location that coordinates, trains, screens, recruits and fulfills the needs of the infrastructure industry.
The academy will be located East of the River in Ward 8. DCIA is currently under construction and is scheduled to open for training in March 2018.
For more information about opportunities to partner or to register for training email [email protected]