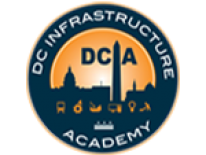 The Department of Employment Services and the American Job Centers will be closed on Monday, November 11, 2019, for Veteran's Day.
DOES and the American Job Centers will resume their regular schedule on Tuesday, November 12, 2019, at 8:30 am.
We invite you to visit our website does.dc.gov or dc.gov for 24-hour agency information.
Click here to access the new DCIA website!
The District of Columbia Infrastructure Academy (DCIA) is a key initiative of Mayor Muriel Bowser's administration, led by the Department of Employment Services.
Infrastructure is one of the fastest-growing industries in the country. DOES has opened the DC Infrastructure Academy to meet the need for skilled infrastructure professionals in Washington, DC.
DCIA coordinates, trains, screens and recruits residents to fulfill the needs of the infrastructure industry and infrastructure jobs with leading companies in this high-demand field. DCIA is located in the Anacostia neighborhood in Ward 8.
Programs and services include:
Commercial Driver's License (CDL)
Energy & Utilities
Auto Mechanic Training
OSHA 10
Solar Panel Installation
Interview Skills
Job Fairs
Job Referrals and more!
For additional information, DCIA calendar of events, and resources, please visit the new DCIA website.
For more information about opportunities to partner or register for training, call 202-899-6040 or email [email protected].
DC Infrastructure Academy Address:
2330 Pomeroy Road SE, Washington, DC 20020
Closest Metro Station: Anacostia Metro Station
Closest Bus Lines: A33, W2, W3, W6, W8, and Circulator
Resources: