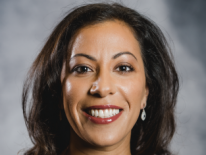 Position/Title
Chief Operating Officer
Nicole Chapple is the Chief Operating Officer at the District of Columbia Department of Employment Services (DOES). At DOES Ms. Chapple oversees the Department's operations including human resources, information technology, budgeting, finance, grants, contracting, facilities and customer service.
Prior to DOES, Ms. Chapple served in various leadership positions at the District of Columbia Homeland Security and Emergency Management Agency (HSEMA) including Chief Administrative Officer, Chief of Staff and the Assistant Director of External Affairs and Policy where she earned the Outstanding Assistant Director Award in 2016. In these roles, she oversaw the agency's administrative functions, regional partnership strategies, crisis communication, community outreach, policy and legislative affairs. She also oversaw the administration of the District's Homeland Security Commission and the Emergency Preparedness Council.
In District Government, Ms. Chapple has also served as the senior advisor to the District of Columbia Public Schools Chancellor where she assisted the school system with crisis communications and lead an effort to create, implement, and train new attendance policies. Additionally, Ms. Chapple served as the Deputy Communications Director for the Executive Office of Mayor Muriel Bowser where she oversaw the public communications for 80+ executive agencies under the jurisdiction of the Mayor.
Prior to District Government, Ms. Chapple was an associate at Booz Allen Hamilton where she worked with the Department of Homeland Security Federal Emergency Management Agency Office of National Capital Region Coordination. Early in her career, Ms. Chapple was a law policy analyst at the University of Maryland Center for Health and Homeland Security.
Ms. Chapple is a graduate of the Naval Postgraduate School Center for Homeland Defense Executive Leaders Program and Harvard University's John F. Kennedy School Leadership in Crisis Executive Seminar. Ms. Chapple earned a Juris Doctorate from the University of Maryland Francis King Carey School of Law and is licensed to practice law in the state of Maryland. She received her Bachelor of Arts Degree in International Affairs from The George Washington University.