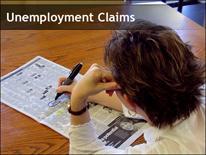 Important Notice for Federal Employees Who Were Furloughed Due to the Federal Government Shutdown
Please note, if you receive retroactive pay from your employer, you will be required to repay all UI benefits received when the retroactive pay is awarded (see Federal Government Shutdown – Repayment Information FAQs for more information). If you are currently seeking unemployment services, you may file over the phone by calling the Customer Navigation Center at (202) 724-7000 Monday to Friday, 8:30 am to 4:30 pm or online at www.dcnetworks.org. Our American Job Center Headquarters location will be open from Monday to Friday, 8:30 am to 4:30 pm for computer access in order to file a claim online, to answer any UI inquiries, and for you to provide your required wage documentation.
For more information related to filing your UCFE claim with the DC Department of Employment Services:
Welcome to the DC Department of Employment Services Unemployment Compensation Program. The District offers two ways to file for unemployment compensation – via the Internet and the phone. We strongly encourage that customers seeking unemployment benefits do so online for quicker service; however, you can reach the UI call center at 202-724-7000. The Office of Unemployment Compensation (OUC), also referred to as Unemployment Insurance (UI) Office, serves claimants and employers of more than 30,000 businesses in and around the District of Columbia. To begin the process of filing for your unemployment benefits, you will need to have the following information readily available:
Your social security number
Your most recent 30-day employer's name(s), address(es), phone number(s) and dates of employment
Your DD214, if you are ex-military
Your Standard Form 8 or Standard Form 50, if you are a former federal employee
Severance pay information (only applicable if you did or will receive severance pay)
Your Alien Registration Number, if you are not a US Citizen
Please note that confidential unemployment compensation information may be requested and utilized for other governmental purposes, including, but not limited to, verification of eligibility under other government programs. This notice is required by 20 C.F.R. § 603.11 – How do States notify claimants and employers about the uses of their information?
For information regarding the next steps after filing an initial unemployment claim, read the Unemployment Insurance What's Next
For detailed instructions regarding how to certify for weekly unemployment benefits, read the Instructions for Completing the Continued Claim Form
For detailed information regarding work search requirements and how to comply, read the Work Search FAQs
Identity theft occurs every two seconds in America. To further protect the personal information of claimants from identity theft, the District of Columbia's Office of Unemployment Compensation has implemented a new security feature into the online application process for unemployment benefits. During the application process, this security feature verifies personal data and authenticates a claimant's identity by asking a series of multiple-choice questions based on information only the claimant can answer correctly. By adding this new security feature, an extra layer of protection against identity theft and a better, more secure online customer experience is provided to claimants while filing for unemployment benefits online. For detailed information regarding our Identify Verification and Authentication Program, read the
UI Identity Verification and Authentication Program FAQ's