Talent Tuesday and First Take Friday Opportunities
The Department of Employment Services (DOES) offers a variety of services to help businesses in the District of Columbia thrive.
The Office of Talent & Client Service's (TCS) mission is to offer businesses in the Washington, DC region complementary services to help meet their workforce development needs.
What We Do:
Strategy & Planning - We provide roadmaps to DC businesses that help them navigate the resources needed to achieve their hiring goals.
Concierge Consulting - As a go-to partner, we provide tailored services for DC businesses at each stage of business growth.
Recruiting & Hiring - We provide employers with access to skilled, talented, and diverse applicants in the district through innovative programs and responsive training.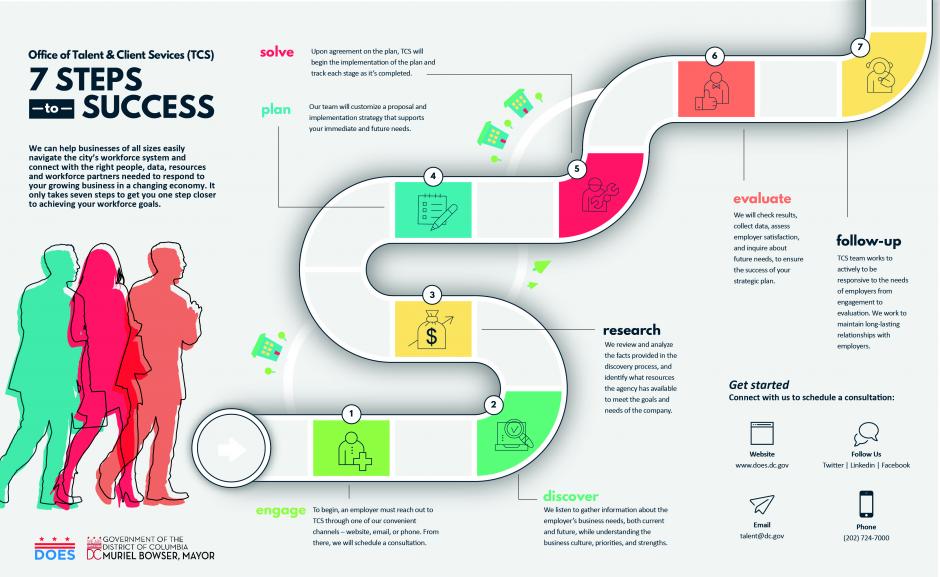 TCS administers the following programs:
Schedule a consultation with our team!
Office Contact: Talent and Client Services
Contact Phone: 202-724-7000
Contact TTY: 711
Service Location GIS Address: 4058 Minnesota Avenue, NE
Contact Suite #: 3001
City: Washington
State: DC
Zip: 20019
Office Hours: Monday to Friday, 8:30 am to 4:30 pm