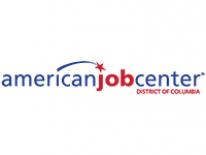 The American Job Center, formerly the DC Works! One-Stop Center, offers job-seekers, students, businesses and career professionals access to a comprehensive array of employment-related services and tools in one convenient location. Through the District's American Job Center, residents can utilize resources such as career counseling, career planning, resume assistance, direct job placement, classroom and on-the-job-training, information about local and national labor markets, unemployment compensation and much more. The Department of Employment Services, supported with resources from the District government and the US Department of Labor, operates the centers that are strategically located and accessible throughout the District.
Whether looking for a job, facing a career transition, seeking new skills, or you just want a new start, visit the District of Columbia American Job Center, your workforce connection for the following services:
Career counseling
Job search assistance
Connections to employers with current job openings
Workshops on topics such as:

Resume Building
Job search strategies
Interviewing skills
Computer Basics
Navigating DCNetworks
Referrals to education and training programs (see attachments below)
Apprenticeship information
Labor Market Information and various career ladders
Access to computers, fax machines, telephones and copiers
General information about Unemployment Insurance
Unemployment Insurance - Overview
Unemployment Insurance - Frequently Asked Questions*
*Please note: The public can file for unemployment compensation benefits at the centers from 8:30 am - 4:00 pm.
The District of Columbia's American Job Center network is geared to assist all job-seekers to develop solid career plans that lead to satisfying careers. Planning your job search and developing short and long-term employment goals are central to any good career plan.
To be eligible for programs you must be at least 18 years of age, a District resident and meet Workforce Investment Act income requirements. All residents will be required to submit proof of the following:
Proof of Birth
Proof of Social Security Number
Proof of DC Residency
Proof of Family Income
Office Hours:
Monday to Friday, 8:30 am to 4:30 pm