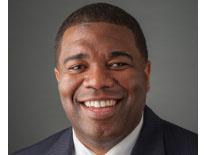 Odie Donald II is the Director of the DC Department of Employment Services and the former Executive Director of the DC Workforce Investment Council (WIC). As WIC Executive Director, Mr. Donald directed more than $100M in local, state, and federal funds administered by the District of Columbia's workforce system for economic development, workforce development, health and human services programs.
Prior to joining the WIC, Mr. Donald served as the WIOA Services Director for the Georgia Department of Economic Development's Workforce Division (WFD), where he managed more than $90M in federal funds. Under his leadership Georgia was twice recognized as the nation's number one destination for business, with the nation's most skilled workforce. As one of the nation's top workforce professionals, Mr. Donald holds the distinction of being the only person to transition two state systems through implementation of the Workforce Innovation and Opportunity Act, which was signed into law by President Barack Obama in 2014.
A native Georgian, Mr. Donald is an active civic leader both in his home state and the District of the Columbia. His volunteer work and community affiliations include serving as founding member of the Savannah Graduates Executive Council, the Mayor's 100 Resilient Cities Executive Cabinet, the DC Career Academy Network (DC CAN), and the CTAE Advisory Board for Atlanta Public Schools.
A 2014 member of the Georgia Forward's Young Game Changers, Mr. Donald was also recognized by Georgia Trend's 40 under 40, joining a host of innovators in business, government, politics, and education.