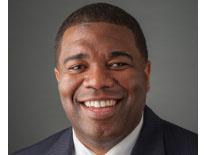 Nationally recognized as a leader in government administration, Odie Donald II is responsible for more than 300,000 people finding employment through government administered programs, resulting in more than $3 billion being directly reinvested in the United States economy over the course of his career. Odie currently serves as the Director of the District of Columbia's Department of Employment Services (DOES), where he directs more than $150M in local, federal and specific purpose funds administered by the District of Columbia and the Federal Government for workforce development programs and training, unemployment compensation, universal paid leave administration, and labor standards enforcement along with more than $80M in active capital projects.
Prior to joining DOES, Odie served as Executive Director of the DC Workforce Investment Council (WIC) where in one year, he developed and implemented the Workforce Innovation and Opportunity Act (WIOA) 2016-2020 Unified State Plan, secured a $1M investment in performance-based work initiatives, and partnered with the White House and LinkedIn to place youth with over 100 DC small businesses. Under Odie's leadership, the District has served more than 100,000 District residents, reinvested more than $831M into the region's economy, removed the District's long-standing designation as the worst workforce system in the country, exemplified by the recent removal of the region's 'high risk' designation for federally funded job training programs and at-risk designation for unemployment insurance programs in place by the US Department of Labor since 2012. During his tenure, the District's unemployment rate has decreased by 1.1 percentage points (14.7%decrease), the number of trained residents has increased by 58%, and the agency has exceeded all statistical performance measures.
As WIOA Services Director for the Georgia Department of Economic Development's Workforce Division, Odie managed more than $90M in federal funds and under his leadership, Georgia was twice recognized as the nation's number one destination for business, with the nation's most skilled workforce. As one of the nation's top workforce professionals, Odie holds the distinction of being the only person to transition two state systems through implementation of WIOA, which was signed into law by President Barack Obama in 2014.
A native Georgian, Odie is an active civic leader both in his home state and the District of Columbia. His volunteer work and community affiliations include serving as Secretary on the Executive Committee for the National Association of State Administrators (NASWA), a member of the DC 100 Resilient Cities Executive Cabinet, the DC Career Academy Network (DC CAN), the CTAE Advisory Board for Atlanta Public Schools, and he was a founding member of the Savannah Graduates Executive Council. A 2014 member of the Georgia Forward's Young Game Changers, Odie was also recognized by Georgia Trend magazine and Georgia State University's 40 under 40 in 2015 and 2017 respectively, joining a host of innovators in business, government, politics, and education. Odie is also a graduate of Georgia State University, receiving a Bachelor of Arts in History in 2003, and an MBA in 2012.