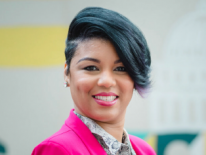 Position/Title:
Duputy Director, Workfoce Development Bureau
Vanessa Weatherington is an accomplished thought leader, policy and issues expert and process improvement specialist in the space of adult and youth workforce development with 10-plus years of experience. She has directly assisted some 200,000 aspirants, primarily youths, in growing academically and professionally. And her efforts have helped an immeasurable number of people step into and sustain themselves in the middle class.
Weatherington's years-long management and leadership contributions helped the District's Department of Employment Services (DOES) shed a federal label as a "high risk" workforce grant recipient. And her efforts led to Washington DC being listed in Forbes Magazine as the number one city in the United States for youth to hold summer jobs.
Weatherington currently serves as the Deputy Director for the Adult Workforce Bureau and Federal Programs at DOES. As a leader for the agency's adult and dislocated WIOA programs, she is directly responsible for planning, organizing and ensuring full implementation of programs designed to provide comprehensive employment services to the public and to provide training information and referrals to District residents.
Weatherington has also helped an untold number of youth and adults achieve their professional goals. During her tenure at DOES, she has managed nearly 100 employees and contractors and maintained relationships with over 700 employers.
Weatherington's educational background is in research, analysis, and project management. She holds a Master of Public Policy and Administration, Human Resources Management, from Bowie State University. And she earned a Bachelor of Science in Psychology, with a minor in Early Childhood Education, from Florida A&M University.