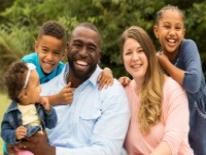 Paid Family Leave Coming to the District of Columbia July 2020
The mission of the Office of Paid Family Leave (OPFL) is to plan, develop, and administer a paid leave program for the District of Columbia under the provisions of the Universal Paid Leave Amendment Act of 2016. The Paid Leave Act provides up to eight weeks of parental leave to bond with a new child, six weeks of family leave to care for an ill family member with a serious health condition, and two weeks of medical leave to care for one's own serious health condition.
On July 1, 2019, the District will begin the collection of taxes from employers and on July 1, 2020, the District will begin administering paid leave benefits.
For inquiries regarding the Paid Family Leave program, please contact the Office of Paid Family Leave at [email protected].
Paid Family Leave Proposed Regulations
Comments on this proposed rulemaking should be submitted, in writing, within thirty (30) days of the date of the publication of this notice in the D.C. Register to the Department of Employment Services, Office of Paid Family Leave, 4058 Minnesota Avenue NE, Washington, DC, 20019, or via email to [email protected]. If submitting comments on this proposed rulemaking via email, please title your email as "Comments on Proposed PFL Tax Regulations." The public comment period for this proposed rulemaking closes on Sunday, July 15, 2018.

DOES initially published a Notice of Proposed Rulemaking in the D.C. Register on April 6, 2018, which included regulations to implement the Universal Paid Leave Amendment Act of 2016 as a whole. Based on comments received, and the statutory timelines, DOES decided to divide the regulations into two chapters, separating the employer contributions and paid-leave benefits. Additionally, these proposed tax regulations include significant changes from the initial proposed rules in order to address employer registration and responsibilities, opt-in and opt-out procedures for self-employed individuals, wages, and contribution and collection procedures.
Paid Family Leave Proposed Tax Regulations Comment Matrix
On Friday, April 6, 2018, the Office of Paid Family Leave posted the first iteration of the proposed rules and regulations which supplement the Universal Paid Leave Amendment Act of 2016. These proposed rules were published in the DC register for a thirty (30) day public comment period, and included below is a matrix of the comments that were received in relation to collection of taxes for the paid-leave program.
Public Notice to District of Columbia Employers And Employees for Paid Family Leave
Employer Paid Leave Assessment Survey
Thank you for completing the survey. Your responses are much appreciated, as they will assist in the implementation efforts, including the formation of rules and regulations. OPFL recognizes the importance of identifying employers' current and future paid leave needs. The goal of the survey was to identify the current paid leave resources available to employees in the District and determine how they align with implementation efforts of the Paid Leave Act.
Paid Family Leave Quarterly Progress Reports:
Community Corner: Outreach & Engagement Updates
Click here to learn more about outreach and engagement efforts (e.g. community meetings, film screenings, information sesssions) in the Paid Family Leave Community Corner.