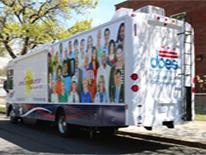 The Workforce on Wheels (WOW) team is a cutting-edge mobile service operation developed by the District of Columbia Department of Employment Services (DOES) to address the needs of District's youth and residents in the communities where they live. Commissioned to serve constituents in underserved communities, the WOW team and mobile unit allows DOES to bring American Job Center (AJC) resources and services to neighborhoods where access is often limited. WOW features workforce programming and employer services, providing opportunities for District residents to prepare for employment opportunities and businesses to connect with qualified applicants. The WOW team is comprised of DOES Community Ambassadors, deployed to engage and educate partners and stakeholders in areas of workforce development while providing residents with employability tools to guide them on a pathway to the middle class.
Click Here to view the WOW calendar of events.
Menu Of Services:
DC Networks Virtual One Stop Registration

Resume & Cover Letter Review

Tips for Effective Job Searching

Interview Coaching: Confidence, Clarity,

Conversation

30-Second Introduction (Elevator Speech)

Job Leads Assistance

Prescreening & Hiring Events for Employers

Tools for Employment Success

Occupational Skills Trainings for

DC residents
To request the WOW team or mobile unit, please complete the following form. Requests for the mobile unit must be submitted at least 14 business days prior to the event.
For more information about the WOW team and mobile unit, email [email protected]