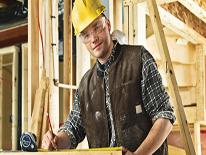 All D.C Youth Apprenticeship Advisory Council (YAAC) Meetings and D.C Apprenticeship Council (DCAC) Meetings will occur bi-monthly. For additional information or access to the upcoming meeting please email [email protected]
Apprenticeships
Apprenticeships combine on-the-job training with classroom instruction, teaching workers the practical and theoretical aspects of highly skilled occupations. Apprenticeship programs are sponsored by employers, labor groups and employer associations.
The Office of Apprenticeship, Information and Training (OAIT), part of the Department of Employment Services (DOES), and oversight of the apprenticeship system in the District of Columbia. OAIT also safeguards the well-being of apprentices, ensures the quality of programs, provides integrated employment and training information to sponsors, employers and trainers. OAIT also staffs the District of Columbia Apprenticeship Council.
Applicants for apprenticeships must be at least 16 years old and meet the sponsor's qualifications. Generally, applicants must demonstrate to sponsors that they have the ability, aptitude and education to master the rudiments of the occupation and complete related instruction.
Prospective employers work with OAIT representatives to develop on-the-job learning plans, related classroom instruction and operating procedures.
Apprenticeship DC promotes both pre-apprenticeship and registered apprenticeship (RA) work-based learning models. Apprenticeship DC serves as the District's Statewide Apprentices Partner, assisting interested businesses in developing and implementing customized apprenticeship and pre-apprenticeship offerings that meet industry specific hiring and training needs.
Through Apprenticeship DC, grants will be awarded to organizations that offer apprenticeship or pre-apprenticeship opportunities in one of the District's six high-demand industries: construction, infrastructure, hospitality, law enforcement, health care, and information technology (IT). In addition to general registered apprenticeship and pre-apprenticeship programming, Apprenticeship DC will also offer a Youth Apprenticeship program component.
To learn more, please feel free to email us at [email protected]
For more information and apply for Apprenticeships click HERE.
Reports and Evaluations
For more information about the Apprenticeship Program, contact the following:
DC Department of Employment Services
Office of Apprenticeship, Information, and Training
4058 Minnesota Avenue, NE, Washington, DC 20019
Phone: (202) 698-5099
The District of Columbia's State Apprenticeship Expansion (ASE) program is funded by a $713,208.79 grant from the U.S. Department of Labor.
The District of Columbia's Apprenticeship Building Capacity Grant program is funded by a $450,000.00 grant from the U.S. Department of Labor.
Service Contact:
Office of Apprenticeship, Information and Training
Office Hours:
Monday to Friday 8:30 am to 5 pm